Business Interpreters
In today's international business scenario, language assistance is required for BUSINESS MEETINGS with INTERNATIONAL CLIENTS. AN INTERPRETER can attend your meetings to facilitate and optimize communication as well as ensure that there are no errors or misunderstandings. We also offer INTERNATIONAL CLIENT MANAGEMENT SERVICES, which refers to PERSONALIZED LANGUAGE SUPPORT and CONCIERGE SERVICES for VIP clients. We are happy to adapt to our client's needs
Interpreters for judicial procedures
We have certified interpreters to assist in notary meetings, legal procedures or other contexts where an interpreter, who can provide a guarantee and validation of his or her interpretation for legal or official purposes, is necessary. Certified translators often work in courtrooms as judicial interpreters, or act in the capacity of a legal expert, as well as providing translations of civil status documentation, marital agreements, divorce settlements, deceases, and wills, for example. Non-certified translators, can currently also offer language support in these contexts.
Conference Interpreters
Simlutaneous interpretation refers to the verbal translation of the message from the source language to the target language in real-time. Our team of skilled interpreters offer simultaneous interpretation in various language combinations. For best results, this kind of interpretation requires specialized simultaneous interpretation equipment, like headphones and microphones with different channels, a sound table and some kind of soundproof installation, commonly a cabin. Simultaneous interpretation offers optimal results as the natural flow of the speaker is not disturbed and allows for a fairly smooth output for the listeners, however given the logistical requirements, and therefore additional costs, this kind of interpretation is usually used for larger events; seminars, conferences (conference interpretation), etc.
Remote interpreting
Telephone interpreting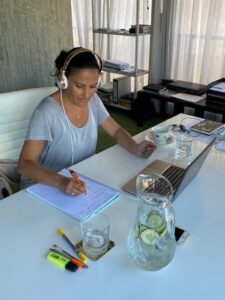 Telephone interpreter services connect human interpreters via telephone to individuals who wish to speak to each other but do not share a common language. The telephone interpreter converts the spoken language from one language to another, enabling listeners and speakers to understand each other. Interpretation over the telephone most often takes place in consecutive mode, which means that the interpreter alternates with the speaker to rendering the interpretation into the other language. This can be done with a dual handset phone, a phone with two receivers, the two parties passing a phone back and forth, three-way-call, or loudspeaker, which can also sometimes be used but can create challenges both in terms of confidentiality, and for the interpreter, especially due to background noise, which can hinder the interpreter's ability to hear.
Video-conference interpreting
Videoconferences have become increasingly popular these last 10 years. Hiring professionals for remote interpretation can be a practical and economical alternative, in comparison to the logistics of on-site gatherings, to support multilingual communication. Our interpreters also work in online business meetings via different platforms, such as ZOOM, Skype, Teamviewer, Google Hangout or internal video conference systems.
International Client Assistance
Our international team is at your disposal to offer language assistance and support to any international customers in the Balearic Islands.
Contact us and let us know your needs. Every client is unique and we are happy to adapt to your ideas.